Renita Nightingale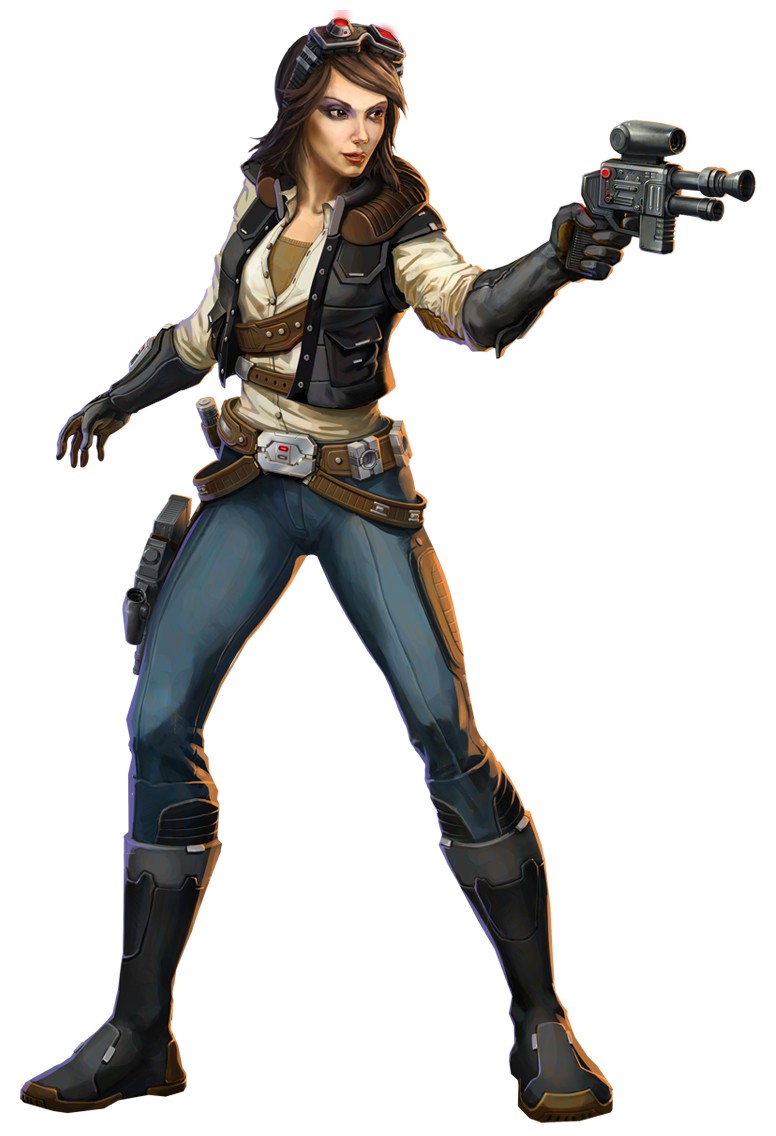 Faction: Grey/Smugglers Alliance
Name: Renita
Legacy name: Nightingale
Race: Human
Gender: Female
Birthplace: Alderaan
Sexuality: Bi sexual
Age: 22
Height: 1.67m
Weight: 52kg 
Eye colour: Blue 
Hair/Hair Colour: Long messy, light brown.
Skin colour: White
Physical condition: Young and healthy, Renita is very agile and very use to space flight. She has come far from the little girl who grew up on Alderaan. She has an excellent figure, very handy for seduction.
Class: Smuggler
Advanced class: Scoundrel 
Skills: Slicing, Scavenging, Underworld trading
Alignment: Chaotic Neutral
Personality: Renita is a smuggler and opportunist, she has done all sorts of odd jobs for the Republic and for certain underworld organisations... She left the traditional life style of her family on Alderaan behind and aspired for freedom and achieving greater things than simply been an heir to a legacy. 
Motivations: Tired of the constant war both in the galaxy in general and within her own family, Renita simply tries to get by in her life. She makes a healthy living from deliveries, she has worked with crews in the past but cant work alone just as easy. Any loyalty she has to the old Nightingale legacy appears lost. 
Gear/Attire: Renita generally wears a black smuggler long coat, with other traditional smuggler looking attire, she keeps a small vibroknife attached to her boot. She carries two blaster pistols both power with blue colour core crystals, but only ever wields 1 at a time, both have laser sight she can turn on and off as she chooses. 
Her spare blaster also has a light torch for exploring slightly darker places or if power cuts out during ship repairs.
Background story: Renita is the youngest of the three nightingale sisters who grew up on the planet of Alderaan. Unlike her two sisters she was not pulled in by either Jedi or the Sith. 
If Renita herself is actually force sensitive to many remains unknown after all the Nightingale blood line has quite often born those strong with the force. Any power she may have she has kept well hidden. 
In her youth after both sisters had left home to follow their own destinies Renita also left. 
Her father disowned her when she refused to marry a noble man from House Organa. 
The three sisters were always close as children, but time and circumstance changed everything. 
Mileetra and Renita have not spoken for a long time though she discovered what occurred on Alderaan. She knows that Mileetra is the one responsible for the slaughter of their parentage and the destruction of their old home. 
Lin'drala and Renita have crossed paths several times, when she discovered Lin had not killed Mileetra the first time they faced off, she thanked her sister and even gave her a rare magenta crystal she had acquired through certain contacts. 
Renita's independent rise in the galaxies underworld was not a simple one. 
She still considers Lin a good friend and would help her if she asked, but Renita herself cannot stand the constant Jedi and Sith babbling and will unlikely ever be totally loyal to either faction. 
( I shall work on diary entries for this char soon giving more detail into the background of the last of the Nightingales ) :)