Prologue
Awakening Of Nightmares.
"Tell me something sister... Do you think the galaxy is a good place?" 
Mileetra spoke softly to her younger sister. 
"I wouldn't presume to know the answer to that sort of question sis... Why do you ask?"
Renita looked at Mileetra in curiosity. Mileetra simply smirked for a moment.
"Do you really think that the Jedi... Or the Republic for that matter will ever bring the galaxy to peace?"
She gave Renita a cold glance seeing if she would show possible deception in her eyes. 
"I.. well... I dunno, I guess its possible, I mean the galaxy is what we make of it I suppose. What is this about, you still missing Linnie since the green Jedi woman took her away?

"
On hearing these words Mileetra relaxes again and smiles at Renita. 
"Yeah something like that perhaps.." She pauses for a moment. "Thanks Ren you can go now."
Renita hugs her sister, then leaves her to her thoughts. 
"The galaxy is what we make of it... hmmm, I shall make it so much more..."
A grin comes across Mileetra's face as she looks at her hand, sparks of lightning ripple across it briefly. 
"Much more indeed."
1 year later...
The shuttle door opens, and the light and dry winds of Korriban touch upon Mileetra's face.
She emerges from the shuttle onto a landing pad along with an imperial soldier and 2 other acolytes of the Sith. 
"You two! that way now, head to your overseer immediately and  we shall see who is worthy to become sith."

"Yes my lord right away!" Both acolytes quickly responded, then the lord turned to Mileetra.
"Remember why I brought you here girl, you will prove yourself as Sith, in these trials and you shall become more powerful than you could ever imagine."
"Yes Lord Nelkor I shall not fail you in this task!"
Mileetra bowed before the man she already saw as her master, even if he had stacked the deck slightly in her favour she was on Korriban now. She knew any signs of weakness our disloyalty would be purged harshly.
"See that you do not, or I will break you... Now, you must travel to the tomb of Marka Ragnos, you will find a small statue inside, acquire and bring it back to Overseer Harkin within the academy, this will show how far you dared to venture into the tomb." He smirks and starts making his way into the academy then suddenly pauses. "Oh I almost forgot... you will need this" He moves his hand out from under his robe and throws to Mileetra what at first glance appeared to be some sort of decorative metal bar, he continued on his way. 
Mileetra examined the item for a moment, the presence of a handle was clear, along with two buttons. 
She pressed one of them and a blade emerged at one end of the staff, then same again for the other end. 
"A vibrostaff... Childs play." she thought to herself. She rotated the blade for a moment spinning it with skill and adapting to its weight before quickly retracting the blades again and heading on her way to the tomb of Ragnos.
Mileetra had arrived, though not far from the tomb she saw an acolyte been chased by two Kor'slugs...
"Help, Help!!!" The young boy screamed, running for his life. Any weapon he must have wielded was now gone as the Kor'slugs began closing in on him hissing loudly.
The boy fell over, right below the ledge Mileetra was standing, he backed up against the wall as the beasts slowed down knowing their prey was cornered.
About to pounce and making the killing blow, suddenly one Kor'slug was instantly struck down as Mileetra activated her double-ended vibroblade and leaped down from the ledge spiking the beast with immense power. There was a large crushing sound as the creature was utterly destroyed by the impact.
Not giving the 2nd Kor'slug a chance to react she blasted it with a shock of lightning from her right hand sending the beast flying backwards.
It lay still for a moment but then some how staggered back up onto its legs. 
The Kor'slug began to make a strange squealing sound and suddenly with a smull rumble from the ground 3 others emerged to join the enraged creature. 
All 4 Kor'slugs now began charging at Mileetra, while the boy watched on in shock and awe...
Mileetra playfully spun her vibroblade "Well perhaps this will be fun after all." She says as a cold grin comes across her face.
As the Kor'slugs began closing in Mileetra, suddenly burst forward at them with great speed.
She plunged her blade into the closest of the beasts then quickly thrust it upwards almost completely slicing it in two.
She leaped in the air over the slain foe and came back down with an immense spinning strike which struck two more of the Kor'slugs down. 
One died on impact, the other slowly tried to scamper away with its wound but was met by nothing other than a quick blast of lightning finishing the beast off. 
The original Kor'slug that had called for help began to cower and back away... Mileetra turned to face it, a ice cold look in her eyes. 
The beast began to Hiss in terror as she lifted it into the air with the force, she than quickly pulled the beast down upon herself but met the falling creature with her blade impaling it through the head and smashing it into the floor. 
It lay at her feet lifeless. As Mileetra again retracted her blade. The boy arose to his feet still in awe as he looked upon his apparent saviour.
He ran over to Mileetra, "Oh my thank you so much tha... ugh... gah..." The boy was interrupted mid sentence as the one who appeared to have saved him raised her hand as she lifted him into the air choking him with the force. 
"Ohhh did you think I was saving your life." Mileetra giggled to herself for a moment then suddenly turned cold a serious. "This is Korriban you fool... you should of kept running." She says as a sudden snap sound emerges as she breaks the boys neck with the force dropping his lifeless corpse in the dust.
"Such weakness has no place among the Sith."
She thought to herself as she leaped back up to the ledge of the tomb and headed inside into the darkness.
Inside the tomb was cold, many scattered remains of destroyed droids and skeletal corpses were all over the place.
Mileetra closed her eyes for a moment, she held her hand and reached out with the force into the darkness... And there it was inside the tomb. The statue she had been sent for calling to her through the force.
She held her blade at the ready in her hand, though kept the blades themselves retracted for the time been. 
Voices began to echo through the tomb, it was unclear if they were from the past or the present. 
Screams of suffering and death. Mileetra suddenly saw ghostly image of several Sith running for their lives and been shot down dead by soldiers in Republic armour.
Cries of children, men and women echoed all around as the people here were exterminated. 
Mileetra began to realise this was the end of the Great Hyperspace War. 
The republic issued a mass extermination of the Sith here and any other Sith settlements driving them away into the unknown regions of the galaxy, lost and broken in the darkness. 
Though clearly from the flames they had been reborn and reforged stronger than ever, though such events of the past would echo forever in this place.
Mileetra pressed onward through the tomb, the call of the statue became stronger and stronger. There was a door straight ahead of her though it was closed. 
As she approached the door, a deep laughter suddenly echoed through the halls of the tomb. 
"Who enters my domain...?"
The voice spoke. Suddenly a ghostly figure wearing an enormous crown with horns appeared behind Mileetra. His eyes were as black as the void itself.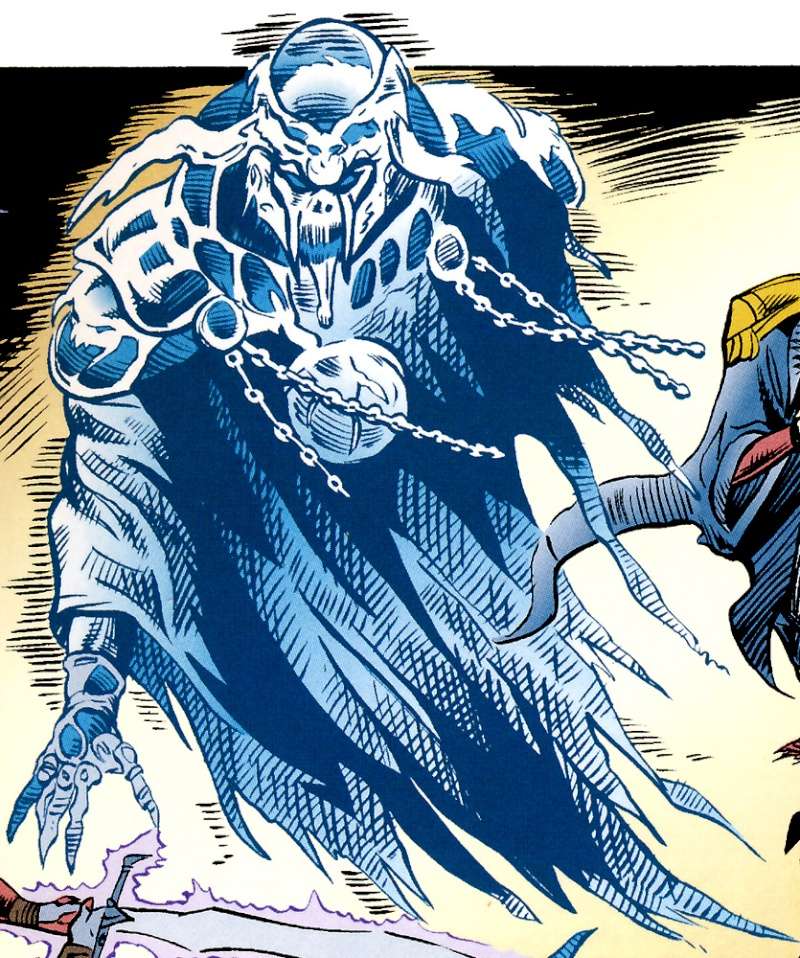 Mileetra showed no signs of fear. "Marka Ragnos.
She spoke calmly to the presence before her.
"Yeesss..." The ghost replied "Good it has not been so long... They still remember the name... Tell me girl what has become of the Sith?"
Mileetra  looked into the void like eyes and answered "The Republic drove the Empire off this world, but it has returned stronger than ever, and in time the Republic will be crushed."
The ghost ponders for a moment. He appears to hover from side to side, listening to her words. 
"I see, weeellll that brings me back to the original question... What are you doing here in my domain?"
His voice is slightly raised as he speaks this time expecting an answer.
"I am here seeking a relic of sorts, a statue that has been calling out to me through the force since I got here."
"Ahhhh so you are the acolyte... How... Interesting, the power I sense in you is... very deceiving very deceiving indeed, I shall allow you to recover what you seek though do not return here again, or I shall crush you Nightingale."
Ragnos' laugh echoes through the tomb once more, he ghostly image flies right through Mileetra and through the door as well. 
Suddenly the stones on the door begin to move and the door opens, and there the small Statue laid before her against a pillar in the room. Ragnos himself had vanished and the tomb had fallen silent. 
Mileetra lifted the small statue into her hand with the force though she did not enter the actual room, wary of what traps may lay inside. 
She made her way back outside leaving the tomb of Ragnos behind, her purpose there had ended. 
Mileetra made her way inside the Sith Academy, the refurbished and re supported structure of the walls were abundant with banners of the Empire. 
Academy troopers in red armour stood guard keeping a watchful eye on all entering and  leaving the academy. 
Mileetra travelled deeper inside, making her way to the chamber of Overseer Harkin. 
En-route to the chamber, she watched as some Sith had brought in a Jedi prisoner, they dragged him off most likely for torture. 
Making her way round the corridors of the Academy, she heard voices and shouting ahead. 
"Get out of my sight... Slave!" 
The words spoken were said filled with disgust. As she made her way down the corridor a figure in black acolyte robes came out of the room and quickly made their way past Mileetra without a word. 
The door to Harkins chamber was still open, and he was standing there proudly with his back turned. 
Mileetra knocked on the door and slowly entered.
"Slave I promise if thats you disturbing me again I'll... oh."
Harkin looked at her clearly not expecting her arrival yet. He looks her up and down. 
"Ah, not a slave at least that is good. So you must be Nelkor's dark beautiful pet that he is obsessing over... Am I to assume that you have succeed in your trial then?"
Mileetra uncovered the statue from her black robe and presented it to Harkin, ignoring his eyeing of her body and the stab at Lord Nelkor.
"Here it is."
"Hmmm most impressive, most impressive indeed... Though it would appear you have succeeded in your trial, hardly possible to consider how you could have failed with Lord Nelkor fondling over you... The other acolytes who were supposed to be in your group and under take the very same challenge did not survive past an hour on this world I wonder who was behind that..."
Suddenly another figure entered the chamber and made his way past Mileetra. 
"Ugh My lord I..."
Lord Nelkor lifted Harkin into the air and smashed him into the wall while force choking him. 
"Perhaps in future you will keep such pondering to yourself Overseer... You never know who could be listening."
Mileetra watched the scene unfold smiling to herself silently. 
Nelkor suddenly releases Harkin from his grip, he turns and faces Mileetra.
"Of course My lord I forgot my place please forgive me I..." "Silence."
Nelkor puts his hand on Mileetra's face she looks him in the eye smiling at him. 
"As for you my apprentice, you have done well... very well indeed." he takes the statue from her and holds it in his left hand for a moment before securing it under robe.
"Your trial is complete, here take this and use it well." 
He unclips a double ended lightsaber from his belt and hands it to Mileetra. "You can keep the old sword as well if you wish as a great reminder of your success." 
Mileetra takes the saber staff in hand, she takes a step back for a moment and ignites both beams of the lightsaber briefly admiring their red glow before de-activating it again moving back to Nelkor's embrace.
"Thank you my master, I learned much from this trial."
Nelkor smiles, he moves and kisses his now confirmed apprentice on the lips passionately and holds her body against him.
Mileetra joins in the moment returning in the kiss, allowing her passions to flow and allowing his spare hand  to explore the figure of her body as she rubs against him. 
Soon the moment is over. Harkin awkwardly not knowing where to luck put his head down and kept his eyes on the floor. 
Breaking from the kiss Mileetra turned to him "Awww are you jealous Harkin." She laughs playfully though he does not respond. 
Nelkor glances at him also, seeing if he dares speak or even raise his head. Harkin wisely did nothing. 
"Come Mileetra my shuttle is awaiting us. We shall return to Dromund Kaas for now, I have more business to take care of there." 
The two of them leave the chamber and make to head off world from Korriban and back to the beating heart of the Empire itself.
She took one more glance at the dusty red home world of the Sith before boarding the masters shuttle.
Mileetra would serve her new master well for now...